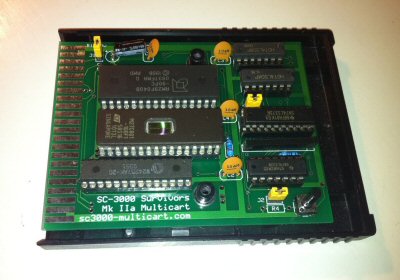 The assembled Mk IIa SC-3000 Multicart in all its 5v TTL glory
Buy your own Sega SC-3000 Survivors Mk II Multicart
---
Order your very own SC-3000 Survivors Mk II Multicart now to secure your cart.
Update: 7 April 2015 : We still have a few spare SC-3000 / SC-3000H multicart PCBs, so you can still order one. Sadly however we are no longer doing the custom cases, so you will have to supply your own (although we do send you a very cool vinyl label for your case).
The good news is that we've had a price drop. Now only $85USD + shipping!
Remember this is a hobby project, so it may take a couple of weeks to assemble your cart..
---
Thanks for your interest in the SC-3000 Survivors Mk II Multicart!
The price for 2015 is $85USD plus shipping / postage.
Shipping to New Zealand $5 USD (ParcelPost Tracked)
Shipping to Australia $7.50 USD (Air Mail 3-10 days)
Shipping to Rest of the World $12.50 USD (Air Mail 4-10 days)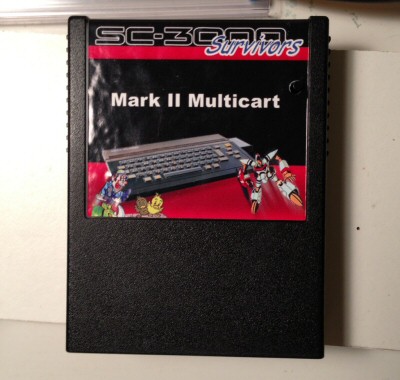 black case with new black vinyl label (Feb 2013)
You will receive:
SC-3000 Mk IIb Multicart PCB. Sadly we are no longer making the custom SC-3000 Survivors Cartridge Cases, so you will have to supply your own from a donor cartridge.

2 x 27C801 8MBit EPROMs
The Menu System, 70+ items of SC-3000 Tape Software, autoscan system for adding your own SG-1000 ROMs, Basic IIIB, Music Editor, VGM Music tracks
The cart will

NOT

ship with official SG-1000 ROMs - you have to find and add those yourself with your own programmer
However it does ship with some Korean / Taiwanese ROMs as these were originally designed for slightly different systems and required some modification to run on the multicart

Note: This multicart is for the Sega SC-3000 / SC-3000H only. It will not work with the SG-1000, SG-1000 II, or Sega Mark III.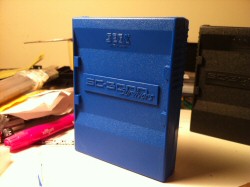 blue and black cartridge cases showing SC-3000 Survivors logo (rear)
There are a few things you should be aware of:
You will need to find / add SG-1000 ROMs yourself

We really don't want to ship any SG-1000 ROM games like Congo Bongo, Star Jacker etc. with the multicart. Those are easy to find on the Internet, and we don't want any nasty letters from the companies who hold the copyrights to the SG-1000 games.

The Multicart will ship with the packaged SC-3000 tape games, various home brew software, and the menu system. Our hope is that the individuals who wrote the tape software will see this as a nice tribute from dedicated fans who have treasured their creations for the last 25 years and they won't chase us with pitchforks :)

Hobby Project

This is a hobby project for dedicated SC-3000 fans - it is not a commercial venture. It is a lot of work to design, test, build, debug, order parts, assemble, ship, provide support etc. So although we do our best to respond to emails and orders quickly, real life sometimes has to come first :)

EPROM Programmer and UV Eraser

The Mk II Multicart has two 27C801 8MBit EPROMs. This is enough space for 32 SG-1000 games in addition to the packaged tape games, VGMs, Korean ROMs etc. that ship with the multicart.

But if you want to add the SG-1000 ROMs yourself you will need an EPROM / Flash programmer (approx $45-50 USD on eBay including shipping) and a UV Eraser (approx $20USD on eBay including shipping).

We can point you in the right direction if you need assistance with that.

And if all you want is the packaged tape games and Korean ROMs the multicart comes with, that's cool too - they will run out of the box.

Flash EEPROM Support

You can use a AMD29F040B Flash EEPROM chip in the left hand socket on the Mk II Multicart instead of a 27C801 EPROM. We no longer supply the Flash chips, but they are easy to find on eBay if you want one. The main reason we don't supply them any more is that most people are happy with the EPROMs, and the Flash chips only store half the amount data.

But let us know if you want to do that and we can point you in the right direction.

The Mk II Multicart PCB design does not work on a SG-1000, SG-1000 II, or Mark III

Unfortunately the Mk II Multicart does NOT work on a SG-1000, SG-1000 II, or Mark III as they do not pass all the signals the Multicart requires to the cartridge port.
---
Yes, I want one, or at least I'm still interested.
Just fill in the Contact Us form and let us know if you want to place an order, or even just ask us some questions. If you've read this far you are probably a keen SC-3000 fan, so we're happy to chat :)